On Friday night, Kim Kardashian took to Instagram to share a fresh batch of pictures featuring her in a bikini. The 42-year-old, who has four children with ex-husband Kanye West, flaunted her hourglass figure in a small two-piece swimsuit that was colored blue.
The famous Californian celebrity showed off her ample chest in a traditional triangle bikini top paired with matching thong bottoms. Kim enjoyed the warm rays of an unidentified beach with crystal clear aqua water as her dark, long hair flowed behind her.
Addressing her 361 million followers on social media, the influencer shared a gentle reminder. She posted three snapshots, one of which featured her puckering her lips and raising her arms while flashing peace signs. Another photo showed her running her fingers through her hair with her eyes closed.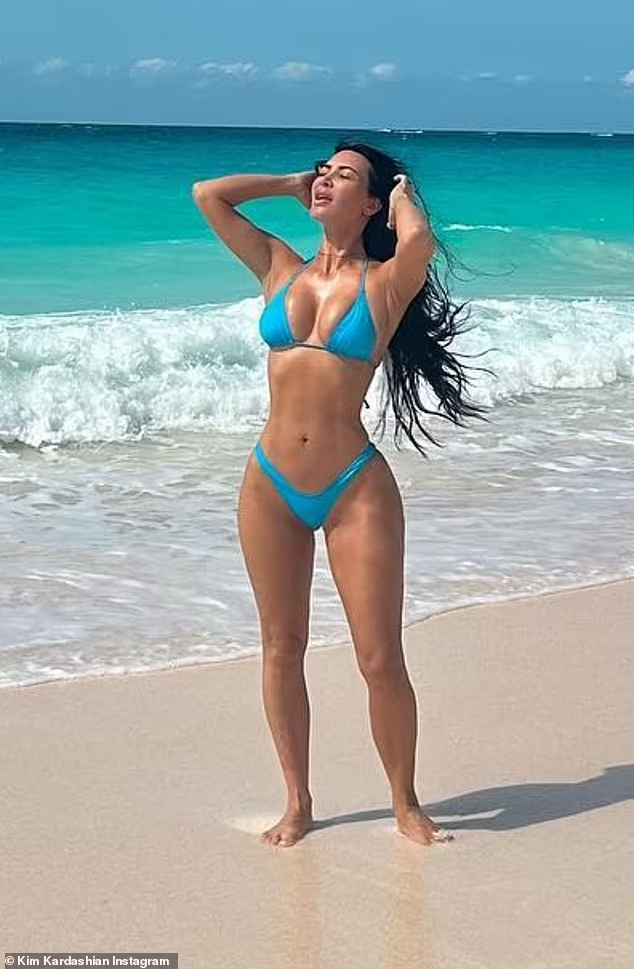 In a single snapshot, Kardashian can be seen giggling as she gracefully moves her hair away from her face. The creator of SKIMS opted for a bare-faced look and donned a set of oversized, sporty, rimless shades for the initial picture.
The former star of Keeping Up With the Kardashians delighted her followers with a sneak peek of her toned stomach and legs in her recent post. Her mesmerized fanbase showed their love through hundreds of thousands of likes and comments. Meanwhile, Kim was also busy on TikTok, where she shared a new post with her 10-year-old daughter North. The mother-daughter duo shares an account on the platform.